Tim's Lovin' It!
January 14, 2019
"Tim's our go-to person. He's our guy."
Those are the words Tim's managers at McDonald's always use to describe him. In 2015, Tim interviewed and was hired for his position at McDonald's. Since he loves structure, he was a little nervous about all of the changes and challenges that came with his new job. Working with his job coaches, he had access to the support and training he needed to succeed.
Tim quickly learned his job responsibilities and loves his position. He excels at jobs like washing dishes, wrapping burritos, and performing cleaning tasks like mopping and wiping down tables. He is an expert at McDonald's condiments and can wrap and organize them all according to a schedule of when they are needed.
Tim's supervisors have been pleased by his job performance, reporting that he's easier to help his team and has a great attitude. While Tim's work is certainly blessing others, it also positively impacts him.
"He'd be the first to tell you that he loves earning that paycheck," his job coach explains. "But he's also grown so much through this position." Working out in the community is important for any adult, with or without disabilities. But it's also important for the community to see how people with different gifts can contribute to the workplace, something Tim is showing through his work every day.
Tim's communication skills continue to grow in the workplace.
When he first started, Tim would answer questions by shaking his head, but now he recounts the details of his day after every shift.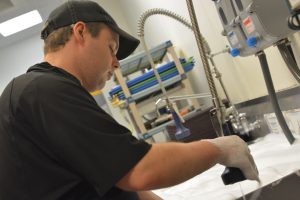 These communication gains are apparent in other ways, too. Tim likes to talk about trains and eagerly shares the details of the trip he took to Colorado with his grandparents. He loves telling others about all five stops and the train rides between each destination. A talented singer and pianist, Tim is also known to sing hymns in preparation for his time leading praise and worship Fridays.
Tim is thriving at Elim and in his community because you have equipped Elim to support him, but also because his community gave him the chance to use his gifts.