Riley is Spreading Happiness
October 30, 2023
Towards the end of 2022, Riley and his family found themselves in a situation where no family ever wants to be found. For six weeks, he battled pneumonia in a hospital, surrounded by family members uncertain of an outcome. Then, one day, an Elim teacher, Ms. Emily, stopped by his hospital room, and the mood forever shifted.
Elim students and staff members rallied together and created snowflakes that hung in Riley's room. Pictures, Bible verses, prayers, and words of encouragement filled his hospital room – the support from Elim immensely touched his family.
"What they did for him when we were in a bad situation for six weeks… it was the most amazing thing that we've ever received from anybody," says Riley's mom, Shannon. "It was huge to see the love and support from Elim. He's got a whole army behind him, and it's so fulfilling to us. It was one of the most amazing things ever."
Riley's Journey
Riley was five months old when he started having seizures and was diagnosed with Lissencephaly and Epilepsy. A therapist recommended Elim to Shannon and Terrence, his father, and they knew that Riley needed to be here. Straight out of early intervention, he officially became an Elim student at three years old.
Now, after spending time in and out of the hospital, Riley is back in school and happy to get back to class!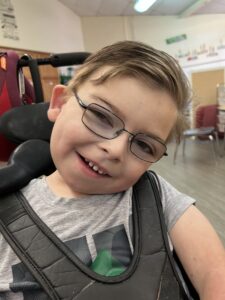 When Riley sees the bus coming to pick him up in the morning, he gets excited, knowing he is returning to school. His joyful disposition affects everyone he meets – from the bus driver who picks him up in the morning to his classroom peers, everyone is always happy to see him.
He thrives in his classroom environment, and Elim staff equip Riley with the tools and resources to further his communication skills. Right now, he is working on making choices. His team will show him two different objects that each associate with their own activity. Then, he'll be asked to choose one of the objects. Riley can decide, all on his own, what he wants to do next.
"Elim has given him a voice, which he didn't have before," explains Shannon. Even when he cannot be in his classroom for extended periods of time and his communication skills start regressing, Elim teachers and staff work diligently to bring him back up to speed and get him to where he needs to be. Everyone who works with Riley strives to see him succeed.
How Riley Thrives
In the future, Riley's family wants to see his communication skills continue to flourish. Whether it's adding more choices that he can choose from or even having a computer screen as something that can speak for him – everyone is excited to see how Riley will thrive!
"Elim has really helped him to become what he is supposed to be," Shannon shares, "just a bright young man that spreads happiness."
Stories like Riley's are possible because of the wonderful Elim community that believes in our mission that everyone has value and purpose. Can you give today to help us further that mission?