Lou's New Device
June 6, 2023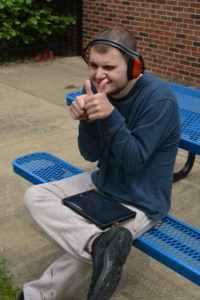 At Elim, 84% of our students rely on different types of communication devices – providing them with the ability to participate in their classes, interact with their peers, and articulate their wants and needs. Having your voice heard is a gift we often take for granted, but with the added assistance of these communication devices, Elim students are heard.
Meet Lou. He has been attending Elim since 2013 in our Pathways program and graduated from Elim this year. Lou has used a communication device since coming to Elim, and he is thriving with this technology!
He is learning essential, life-changing skills with this communication technology. He can request things from his teachers or peers, gain their attention, and more. Phrases like "Can I have that" or "No, I'm done" are available to him through his device. He can provide personal information, like his name and age, to his classmates or anyone he meets, and he can even order food at a restaurant using this tool!
"I look forward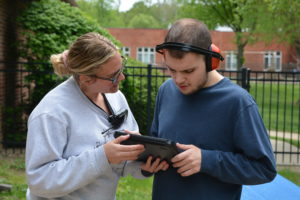 to every session with Lou," says Ms. Brittany, Lou's Speech Pathologist. "I love teaching him new words, but my favorite times with him are in the community. I love seeing him generalize the skills he learns in the "Speech Therapy World" to the outside world. I like seeing him order food at a restaurant or hanging out with the fireman at the fire station, saying words like "fire, fireman, firetruck." It's been cool to see him blossom and grow over the years!"
Lou has favorite phrases he likes to communicate, especially when greeting others. "Jesus loves you" is a favorite that is used often, as well as words that let him label what he sees. "He loves labeling everything he sees," Ms. Brittany tells us. "For example, if we are getting ready for our speech session and he sees me grab his data sheet from my binder and a pen, he will use his device to say, "pen, gray, paper, write, Ms. Brittany.'"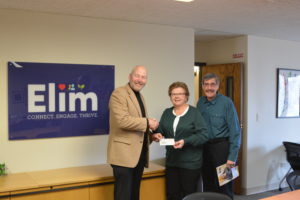 We want to extend our deepest gratitude to Janice Mager and the First Catholic Slovak Ladies Association for their generous donation that allowed us to purchase a brand-new communication device for Lou.
The gifts we receive from our generous donors genuinely change and impact the lives of the students and adults at Elim, and the FCSLA's donation is a gift that will see Lou thrive in his God-given abilities.