Finding His Voice
January 31, 2023
Life-changing skills are taught at Elim; Jacob and his family know this first-hand.
Jacob is a silly, kindhearted jokester at Elim who loves to make people laugh. His personality brightens the day of anyone he meets, and he always wears a smile.
After spending time in another school district, Jacob's family felt his needs were not entirely met and he was falling through the cracks. But then, by God's grace, they found Elim.
A little over three months ago, Jacob started at Elim, and his family saw an immediate shift in his mood. Not only is he smiling more, but he is even disappointed when it is time to go home on the bus! "He is tired when he gets home from Elim because he is working hard and having fun," says his mother. "I see that as a positive!"
There are fun opportunities coming up at Elim that excite Jacob and his family – the number one being Prom! He participates in a book club with his peers that use eye-gazing communication devices. They are currently reading A Wrinkle in Time!
How Jacob soars
Jacob's teachers and Speech Language Pathologist work diligently to familiarize Jacob with his new eye-gazing device. As a nonverbal student, his device allows him to communicate and participate more in class and at home.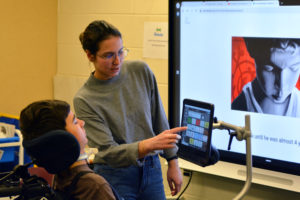 Learning to use an eye-gazing device like this is just like learning a new language – but Jacob is up for the challenge!
An eye-gazing device like this gives Jacob instant feedback from his teachers and peers, and knowing he is being understood delights him! Social connections are one of Jacob's main motivators to work hard in school. He loves his peers – so having this brand-new communication device pushes him to thrive. "He hasn't been here that long, but we've already seen so much progress," recounts his Speech Language Pathologist, Kara, "He is going to soar with this device!"
These resources encourage Jacob's independence and allow him to advocate for himself. Eventually, his family would love to see him transition into our Adult Services program and have this continuous means of communication. Because of Elim's outstanding professionals and resources, Jacob has grown into his God-given gifts. Your generous support helps his voice be heard – a gift that many of us have and take for granted.