Eagles' Wings 5K
Thank you to everyone who came out for 2019's Elim Eagles' Wings 5K!
2019 Results – Overall
2019 Results – Age Groups
2019 Race Photos
2020 Registration
Donate
Volunteer
Sponsorship Form
Pledge Form
Stay tuned for next year's race!
---
The remainder of this page includes information that may or may not be accurate to the 2020 5K event. The 2020 5K event will be held on Saturday, May 16, 2020.
Schedule of events for Saturday, May 11, 2019!
7:30 – 8:45 am:  Registration and Packet Pick-Up Open; Raffle Table open
8:30 – 8:50 am: Pre-Race Stretch at the Bridge (led by Fit4Mom)
8:30 – 10:30 am:  Video Arcade Kids Obstacle Course open
8:55 am: Prayer
9:00 am: 5K Start
9:05 am: 1-Mile Start
10:00 am: Post-Race Party with refreshments and music
10:30 am: Raffle Drawings
Elim's mission is to equip people with disabilities to pursue their God-given potential by offering person-centered services and partnering with their communities.
Questions?
Contact laura.schnyders@elimcs.org. Elim Christian Services is located at 13020 S. Central Avenue in Crestwood, Illinois, 60418, 23 miles south-southwest of downtown Chicago. Please note, while wheelchairs, strollers, and service dogs are welcome, roller blades, bikes, and non-service dogs are not permitted for the safety of Elim children and adults and other participants.
---
Frequently Asked Questions (and Answers):
When can I pick up my Race Packet?
Packets can also be picked up on Friday at Elim from 2-6p (Building B, HR Learning Center).
If you're an Elim parent and would like your family's packet(s) sent home with your student or adult, please notify their teacher or call 708-293-6509.
Packets can also be picked up on Saturday morning from 7:30-8:45 on race day in the center courtyard of our campus.
Note: You do not need to go to the registration table on the morning of the 5K if you have pre-registered – you can go straight to packet pickup.
I collected pledges. Where can I turn those in?
You can turn in donations at the packet pick-up table on race day. Most participants raise pledges online on our 5K page, the same place where you signed up.
What if it Rains?
If it rains, we will plan to run. However, if there is lightning or another severe weather situation, we will postpone the race start by 15 minutes, but no more than an hour. In case of rain or other severe weather conditions, the race may be cancelled. If there is an event cancellation, no refunds will be available to registrants and all proceeds will still go towards the same goal: to purchase essential equipment, technology, and other resources to help equip children and adults with disabilities to pursue their God-given potential.
Where Is Race-Day Registration?
The event is headquartered in the main courtyard at the school off Central Avenue in Crestwood. The post-race party and Kid's Obstacle Course also take place within the vicinity of the courtyard.
Where do I park?
There are two big parking lots on Central Avenue. Visitors can park there and then report to the courtyard.
When does it all start?
The 5K kicks off at 9am, with registration and packet pick-up opening at 7:30am. Please arrive plenty early to avoid missing the starting gun. The walkers and the runners are starting at roughly the same time, so you'll want to make sure you are signed up and at the starting line on time. The starting line is approximately ¼ mile from the parking lot and registration area, so give yourself plenty of time.
What about the course and the starting line?
The 5K and 1-Mile Loop start in pretty much the same spot, on Elim's West campus (across the creek from the main part of campus on Central Avenue). A map of the 2019 course is provided below.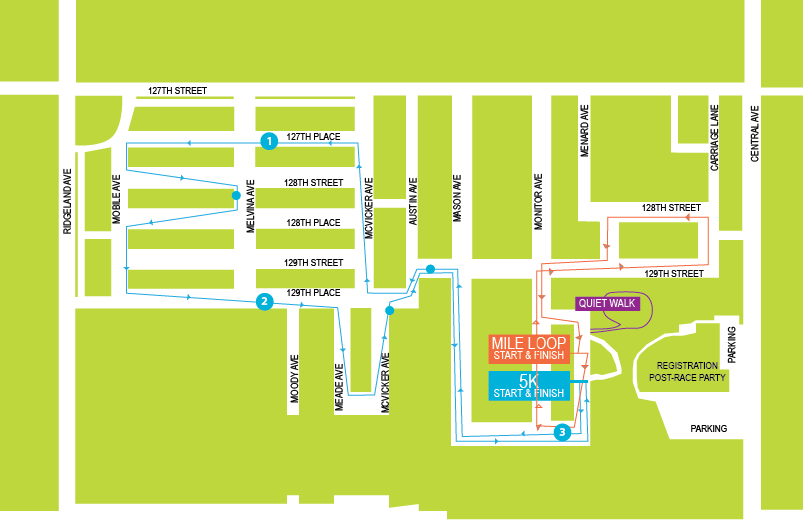 What if I have questions?
Our team will be running around in special-colored shirts on Saturday, so look for us if you have questions, or if you just want to tell us how you enjoyed your day.
Is there a raffle for prizes?
All Pre-registered participants for the 5K and the 1-mile will automatically be entered in a drawing for the "grand" raffle prize.
Day-of, participants can purchase additional raffle tickets for prizes from some great area businesses. Raffle tickets are available for purchase at the fairly standard rate of $1 per ticket, or $5 for 6. You do not need to be present to win, but you will need to respond to the phone call or email to claim your prize. But why would you leave? You can enjoy a banana or bagel, and listen to our DJ while you wait to find out if you've won.
What about my kids?
There is a FREE kid's obstacle course available throughout the event. Kids do not need to register for this and there are prizes. Other information regarding event photos, sponsors, and upcoming events will be found in your participant packets.