Longtime Elim Advocates Join Executive Leadership Team
September 19, 2022
Elim Christian Services has been seeking a new Vice President of Advancement, Marketing, and Communications since Bob Marsh left after 18 years of service to the Elim community. This position is critical to Elim's fundraising effectiveness and sustainability. Elim's fundraising revenue has grown significantly over the last few years, and it is vital that we sustain the momentum we've begun.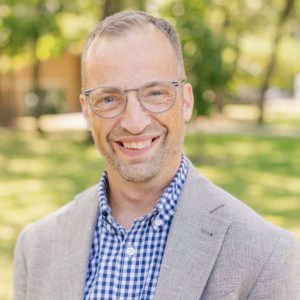 Dan Vander Plaats has accepted the role and assumed the responsibilities of the Vice President of Advancement, Marketing, and Communications as of September 19, 2022. Dan brings twenty-five years of fundraising and communications experience, a Master's degree in Nonprofit Administration, and a passion for Elim's mission to this role. Dan is excited to bring His deep commitment to the work of Christ, and his personal experience as someone with a developmental disability to Elim's executive team.
Bill Lodewyk, President of Elim, has worked with Dan since Bill was called to serve as Executive Director in 2000. "I am excited about Dan stepping into this new and expanded role! Dan's personal story, passion for disability and years of distinguished service to Elim, make him the perfect candidate to serve as Elim's next Vice President of Advancement, Marketing, and Communications. I look forward to what God will do through Elim as a result of this exciting transition!"
In taking on this role, Dan steps out of the position of Director, leaving a vacancy that Elim leadership is choosing not to fill at this time.
However, during the search process, the search committee was able to consider the gifts and skills of a former Elim parent and current Elim board member, Brian Page. Brian also has many years of experience and a history of success both in fundraising and in executive leadership. Brian has accepted a newly created position, as Vice President of Strategic Partnerships, and joins the Executive Leadership Team effective September 29, 2022.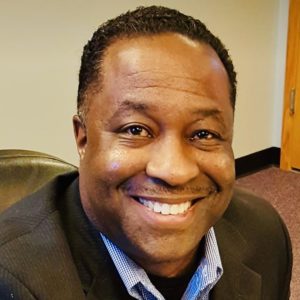 Brian has served in multiple executive roles and demonstrated a keen insight into nonprofit leadership and strategy. Additionally, his deep and broad network of connections will undoubtedly help Elim continue its upward momentum, particularly in fundraising. Brian's son, Ben, graduated from Elim's school program just six years ago (2016), and Brian has maintained a strong connection to Elim ever since, most recently serving as a member of our Board of Directors. Brian also lives out his personal commitment to Christ and to His Kingdom with integrity and faithful gratitude.
President Bill Lodewyk has known Brian for several years and is excited to have him join Elim's team. "Brian is God's gift to Elim! His passion for Elim's mission is profoundly personal, and Brian finds fulfillment as he shares that passion with new audiences. I am very excited about how God will use Brian's passion and relational style to build intentional strategic partnerships that will open up new doors of opportunity for Elim…and Brian will be the first to give God the glory!"
Lodewyk recently pointed out the advantages of these two additions to Elim's executive team:
Elim has been able to bring on two capable leaders with a personal story that resonates with Elim's mission
These hires create capacity to keep building on Elim's positive fundraising growth (40% increase in annual fund in last three years)
Elim has not increased the number of staff in the office of Advancement, Marketing, and Communications
This staffing configuration comes at less overall cost to Elim
Elim is currently functioning with heightened cost-sensitivity, so it was critical that the organization be positioned to continue fundraising growth without negatively impacting Elim programs or budget.
Lodewyk believes that this cost-conscious move will also lead to new opportunities for Elim's mission achievement. "We are grateful to God for His provision in making a way for us to do this and excited to see how these two additions to Elim's executive leadership team can contribute to continued growth for the ministry, especially when other areas of revenue have been impacted."