Lauren is Making an Impact
April 18, 2023
Lauren Surbaugh truly loves her opportunity to serve Elim as a teacher. "Working at Elim is very rewarding. Seeing the students succeed, building connections with your co-workers, and all the wonderful continuing education experiences — it's such a unique experience. I've worked in other schools, and Elim stands out."
Lauren initially graduated from college with a degree in Health and Physical Education. After a few years in the field, she was doing respite care with an Elim student named JP. Because of her background, JP's family encouraged Lauren to apply to work at Elim.
She was excited to join the Elim family because it was a Christian organization, and after just a short time at Elim, Lauren decided to go to grad school. In 2015, she acquired a master's degree in special education from Trinity Christian College. Because of the close relationship between Trinity and Elim, Lauren completed her teaching practicum at Elim, with former Elim teacher Patti Powell as her instructor and advisor.
Lauren is grateful to be part of Elim but is especially thankful that Elim is a Christ-centered program where everyone has value and purpose. "I thoroughly enjoy working with all the people at Elim every day. If I ask for help, they are all just very supportive."
Lauren's class has access to a specially arranged school store, where they can practice shopping skills. Recently, Lauren was talking with the Technology Instructor (Tony Stafford) about a project she wanted to do with her students using the school store. When he found out her class was stopping by the store, he took time out of his schedule to help with the transition for her students. "Even just today," Lauren recalled, "he sent his assistant to help us out with the transition too." Elim's unique culture means everyone, in every role, feels a responsibility to support each student, as well as their fellow staff.
Lauren also enjoys getting to know the students, building a rapport with them, getting to know their families, and watching them make progress over the years.
"Kaylee is in my classroom right now, and this is my third year as her teacher. When she first started with me, she had more frequent behavior challenges; she had trouble eating and drinking at school and rarely used her communication device. Now, she comments on her device throughout lessons, communicates that she needs space or a break, requests her favorite snacks or drinks — she is smiling and engaged. Seeing her communication grow over the years, along with her demeanor in the classroom, seeing her joy; it's such a unique blessing."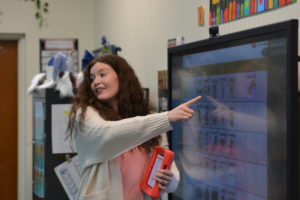 Integral to the success of each student is the strength of Elim's team across the disciplines: therapy, teaching and instruction, counseling, communication, and more.
Lauren reflects, "I think it's amazing that we have such a strong interdisciplinary team. We all have such different specialties, but we all work closely together to support the students. It's so wonderful to hear from each therapist about what we can do to improve our students' lives. Our social workers are key to preparing students for life after Elim."
"Everything we do is designed toward seeing our students thrive after they leave Elim," Lauren notes. "It's the most rewarding and amazing part of the job. I learn as much from my co-workers as I do from the students."
Are you interested in directly impacting the lives of our students at Elim like Lauren? Do you want to be a part of something big? Apply to work at Elim today!