Joe Gets the Job Done
April 16, 2023
Every Sunday, you can find Joe in his happy place – at Mass with his family, listening and swaying to church music, and shaking hands with those around him as an offering of peace. He loves spending time with his family and going places together, like different sporting events and the movie theater.
One of the many admirable qualities we have learned about Joe is that once he sets his mind to something, he is determined to see it through. His parents shared a story about how Joe took his VCR apart and rebuilt it back together. They were amazed at how he remembered where each piece should go and how quickly he could fix whatever part needed adjusting.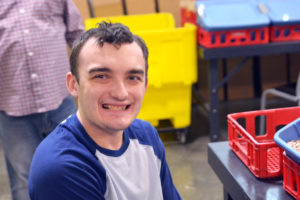 Joe brings his determined spirit to Elim, as he started in the School Program in his 8th-grade year. His parents felt he needed to be at a school that could provide the staff and resources to equip Joe to thrive and become more independent.
When it came time for Joe to transition into an adult services program, his family knew they needed to set up a time to visit the Elim's Adult Day services program. Joe was already comfortable at Elim, and they wanted him to stay where he would be happy.
Right away, Joe felt at home, his family noted. Even though he would be the youngest member of Adult Services, he had a great mix of peers and people he could connect with daily. His parents were sold – Joe would stay at Elim in our Adult Services program.
Joe thrives on the class structure his instructors provide, and he especially enjoys working with food HOPE Packs. Because of his great focus, he excels at his job – meticulously bagging beans to be sealed together in a neat pile. After spending a few moments away from his station to take photos, Joe was eager to get back to his workspace and finish bagging his allotted beans.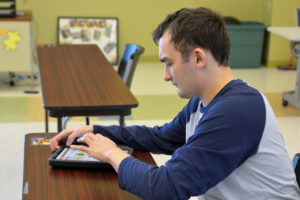 Joe also participates in various activities at Adult Services, like volunteering at a local food pantry and playing on a basketball team!
"We really appreciate Elim and all of the staff who work there," Joe's parents, Ed and Diane, say. "He leaves happy and comes home happy."
Of all things, his family wants to see Joe continue to be happy. His parents want him to continue to be independent and care for himself, addressing his emotions and working through his feelings. But most importantly, his happiness is what they genuinely want to see – and Elim will continue to provide that.
We are blessed to have adults like Joe at Elim, whose determination to thrive shines the second he walks through the doors at Elim. Thanks to the support of our Elim Family, we can continue to equip Joe and his peers with the resources they need to succeed.