Elim Entrepreneurs – Cindy's Handmade Cards
June 16, 2023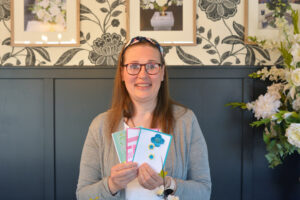 As one of Elim's long-time Adult Services participants, Cindy has become known as quite the entrepreneur! Cindy has been growing her card-making business for several years with the help of Elim's staff, creating all different types of designs. From Christmas to birthday cards, from Anniversaries to Mother's Day cards – she will develop and craft designs to represent any special occasion!
Paul Tucker (Elim's Warehouse Supervisor) avidly supports Cindy's business, encouraging her to continue creating new designs. Paul's wife, who works at a local florist, told Paul that space was available for handmade gifts.
At Dixon's Florist – located at 919 Ridge Road in Munster, IN – you can find flower arrangements for all your needs and other unique gifts for your house! Bob and Jasmin Wilk, who have owned Dixon's Florist for just over one year, made it one of their goals to offer specialized products for their customers.
Knowing that Cindy had the talent to create unique and innovative cards, Paul reached out to the owners of Dixon's – and the rest is history!
Cindy was over the moon when she learned her cards would be on display at Dixon's. When asked how she felt about having her cards sold in-store, she said, "It feels really wonderful! I really, really love it, and I'm excited about it."
Opportunities to showcase the gifts and talents of adults with disabilities while supporting small and local businesses are not often seen, making this partnership even more special. Dixon's Florist will continue to sell Cindy's cards as long as she continues to make them – and she has no plans to stop creating her beautiful cards!